Jim Korkis
Jim Korkis is an internationally respected Disney historian who has written hundreds of articles about all things Disney for over three decades.

Jim was the original "Merlin" in the Sword in the Stone ceremony in Fantasyland in Walt Disney World and he graciously allowed Nancy Temple Rodrigue the use of his script in her novel HIDDEN MICKEY 4 Wolf: Happily Ever After? His countless anecdotes about Walt Disney are pricelessand we appreciate his permission to use them. We also appreciate Jim's allowed use of Ken Anderson quotes from the Ken Anderson interview with Jim Korkis
© Jim Korkis 1985, used by permission.

He is also an award winning teacher, professional actor and magician and author of several books about animation. He grew up in Glendale, California, right next to Burbank, the home of the Disney Studios.

His third grade teacher at Thomas Edison Elementary School was Mrs. Disney, the wife of one of Walt Disney's brothers. Upon discovering this fact, Jim took a large sheet of easel paper and drew a huge picture of Jiminy Cricket, his favorite Disney character at the time. He gave it to Mrs. Disney in the hopes that she would immediately take it to the Disney Studios where he would be offered a job and not have to learn his multiplication tables. He was not hired and still has trouble with math to this day.

As a teenager, Jim wrote down the names he saw on the credits of Disney animated cartoons and went to the Glendale-Burbank phone book and cold called some of them. Many were gracious enough to ask him to visit them with the resulting articles sometimes appearing in the local newspapers or various "fan-zines" and magazines. Over the decades, Jim pursued a teaching career as well as a performing career but was still active in writing about Disney for various magazines. In 1995, he relocated to Orlando, Florida to take care of his ailing parents. He got a job doing magic and making balloon animals for guests at Pleasure Island. Within a month, he was moved over to the Magic Kingdom, where he "assisted in the portrayal of" Prospector Pat in Frontierland and Merlin in Fantasyland for the Sword in the Stone ceremony. He has pictures, videos and pay stubs to prove it. In 1996, he became a full time salaried animation instructor at the Disney Institute where he taught every animation class including several that only he taught. He also instructed classes on animation history and improvisational acting techniques for the interns at Disney Feature Animation Florida. As the Disney Institute re-organized, Jim joined Disney Adult Discoveries, the group who researched, wrote and facilitated backstage tours and programs for Disney guests and Disneyana conventions.

Eventually, Jim moved to Epcot where he was a Coordinator with College and International Programs and then a Coordinator for the Epcot Disney Learning Center. During his time at Epcot, Jim researched, wrote and facilitated over two hundred different presentations on Disney history for Disney cast members and corporate clients including Feld Entertainment, Kodak, Blue Cross, Toys R Us, Military Sales and more. He was the off camera announcer for the syndicated television series Secrets of the Animal Kingdom, wrote articles for Disney publications like Disney Adventures, Disney Files (DVC), Sketches, Disney Insider and more. He worked on special projects like writing text for WDW trading cards, on camera host for the 100 Years of Magic Vacation Planning video, facilitator with the Disney Crew puppet show and countless other credits including assisting Disney Cruise Line, WDW Travel Company, Imagineering and Disney Design Group with Disney historical material. As a result, Jim was the recipient of the prestigious Disney award, Partners in Excellence, in 2004.

Jim Korkis is Author of :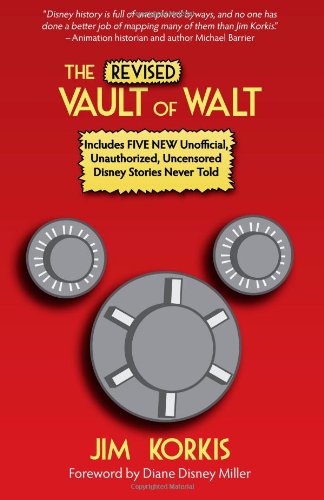 The Revised Vault of Walt: Unofficial, Unauthorized, Uncensored Disney Stories Never Told
[Theme Park Press] (2012) By Jim Korkis - In 2010, Jim Korkis wrote his best-selling book "The Vault of Walt." Now Jim has returned to the Vault, and in this revised edition of his classic book, you'll find your favorite tales plus five brand-new stories, including: The perilous four-month stint of famed Warner Bros. animator Chuck Jones at the Disney Studios Why two women you've never heard of were among Walt's most important influences Walt's admiration for and brief collaboration with legendary artist Salvador Dali Walt and Lillian Disney's raucous 30th wedding anniversary celebration in Frontierland How Walt's early infatuation with polo led to an injury that plagued him for the rest of his life The story of Cinderella's Golden Carrousel and the Disney craftswoman who tended it for decades Walt's fondness for chili and cold weenies, with authentic recipes to create his favorite dishes
And over twenty more!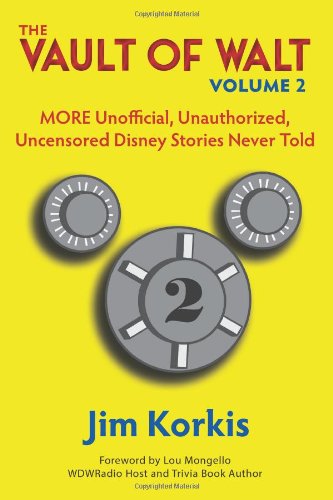 The Vault of Walt: Volume 2: Unofficial, Unauthorized, Uncensored Disney Stories Never Told
[Theme Park Press] (2013) By Jim Korkis - In this second volume of the best-selling Vault of Walt series, Disney historian Jim Korkis entertains and enlightens with over two dozen stories about Disney films, Disney theme parks, and of course, Walt Disney himself. As well-known Disney authority Lou Mongello writes in the foreword, the stories "in this book are ones only Jim can weave - and told in the way only he can tell them." In a style accessible but authoritative, and brimming with a delight for Disney, Jim takes you behind the scenes for:
A ride through EPCOT's Spaceship Earth for a closer look at graffiti, bare breasts, and evil twins.
The bare-knuckles battle between Walt Disney and P.L. Travers over Mary Poppins
The real story of The Jungle Cruise, what Humphrey Bogart had to do with it, and how Walt once got cheated by an impatient skipper.
The life-long hatred between Walt and Bugs Bunny creator Friz Freleng over a boil on Freleng's butt.
How Roy O. Disney took over a demoralized company after his brother Walt's death and built a fantasyland from swampland.
Why even the mention of a dismal cartoon that Walt created in the 1930s drove him to fury.
And many more!
Any Disney fan curious about the history not told (and sometimes buried!) by the Disney Company, and not found in other books that merely scratch the surface of Disney's rich but often forgotten past, will find it here, presented in short, self-contained chapters that span Walt's earliest years through the present.
Despite Jim Korkis's love for Disney, there's no sugarcoating atop these stories. You'll get the warts and the wizardry, the playful and the pungent, the magical and the heretical - but most of all, you'll get what really happened, because those are the best stories of all.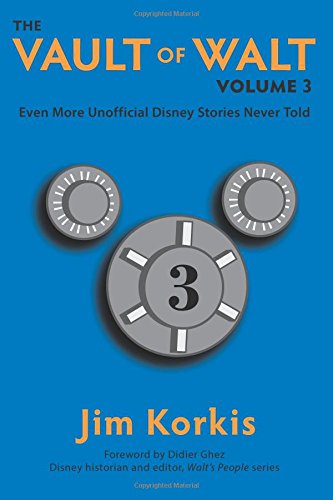 The Vault of Walt: Volume 3: Even More Unofficial Disney Stories Never Told
[Theme Park Press] (2014) By Jim Korkis - It Came from the Vault (of Walt)...Again! Best-selling author Jim Korkis brings forth from his famous Vault of Walt two dozen new stories about Disney films and theme parks, Disney stars and attractions, and of course, Walt himself. Disney fans and historians alike will relish these little-known tales.
Now in its third volume, the Vault of Walt series continues to be the definitive source for Disney lovers eager to peek behind the magic and learn the spells that made the magic in the first place. Jim Korkis doesn't just tell the stories, he brings you face-to-face with the storytellers themselves, drawing on exclusive interviews and private correspondence.
Among the tales fresh from the Vault:
Unraveling the facts from the fiction of Disney's recent film, Saving Mr. Banks
Walt's never-realized plan for Edison Square, an urban counterpart to Disneyland's Main Street, USA The sad life of Cliff Edwards, voice of Jiminy Cricket, who died penniless in a nursing home, after a life of alcohol and drug addiction
The forgotten Cast Members who "discovered" Hidden Mickeys and made them famous
Walt's infamous cough, his connection to Norman Rockwell, and even his favorite apple pie
The history of Disney fandom, from the exclusive Mouse Club to Disneyana
The only combination to this vault is a love for Disney and what makes it tick. If this is your first visit, make sure to also check out Vault of Walt volumes 1 and 2, as well as Jim's Who's Afraid of the Song of the South, packed with tales from the "adult-only" section of the Vault.

Jim is not currently an employee of the Disney Company.