The 3rd book in the Hidden Mickey Adventures series HIDDEN MICKEY ADVENTURES 3: The Mermaid's Tale was released July 1, 2014. The author was invited to the Disneyana Mania Expo, near Disneyland, for this book's formal release. As expected, the book was the 'Best Selling' book at the event.

The newest book of games, quests, and finding Hidden Mickeys, in the Hidden Mickey Quests series Hidden Mickey Adventures: in Disney California Adventure, released August 1, 2013, was dubbed an instant hit at Disney's D-23 Expo.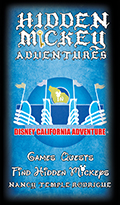 Look for us Sunday, September 28, 2014, at the Orange County Childrens Book Festival on the Orange Coast College campus (OCC) in The City of Orange, California. Nancy Temple Rodrigue, author of the Hidden Mickey and Hidden Mickey Adventures series of action adventure mystery novels and game books will be in the booth signing books from 10am till 4pm, so come meet the author and get an autographed copy. These Disney themed books were acclaimed to be 'Best Sellers' at Disney's D-23 Expo and the Los Angeles Times Festival of Books.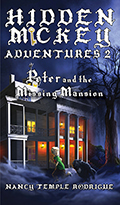 Double-R Books is a publisher of books in paperback, hardcover, and ebook formats, mainly in the Disney themed genre.

Double-R Books in-print titles have worldwide book distribution on Amazon (holding a 56% market share on book sales) and in Barnes & Noble Bookstores. Ebook titles have worldwide book distribution on Amazon.com, Barnes&Noble.com, the Apple Bookstore, Kobo Books, Overdrive, and other online bookstores.

Our Authors are provided with expert book publishing and book distribution services, and very fair royalties.

Double-R Books Publishing is a member of

with colleagues including Disney, Random House, Harpercollins, Harvard and Colombia University Press, and more.