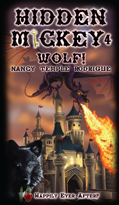 HIDDEN MICKEY 4 Wolf! Happily Ever After?
[DOUBLE-R BOOKS - November 15, 2011 - ISBN: 0974902683 - ISBN 13: 9780974902685]
Volume 4 in the HIDDEN MICKEY series
© Nancy Temple Rodrigue
Written for Adults, Teens, and Tweens (age appropriate 10 and up).
Since these are Mysteries, we recommend first reading Volume 1, Hidden Mickey: Sometimes Dead Men DO Tell Tales! However, should you decide to read this novel first, it stands on it's own very well.
WOLF CROSSES PATHS WITH MERLIN AS HE ATTEMPTS TO RETURN THE RED DIAMOND TO IT'S RIGHTFUL OWNER
Wolf, the mysterious Disneyland security guard and Guardian of Walt Disney, now armed with a 21st century helper and a beautiful damsel lost in the stream of time, finds himself traveling back and forth through history as he attempts to get the enchanted princess, Briar Rose, back home to her own castle and time.
AN EVIL FORCE PUTS EVERYTHING INTO GAINING CONTROL OVER THAT GEM
Once loved by the powerful Merlin, his apprentice Nimue shows her true colors by betraying him—and all who come close to her—as she attempts to regain control of the powerful pendant. Her name might change through the eons, but her heart of evil stays the same.
WOLF STRUGGLES TO RESIST THE POWERFUL FORCES OF DARKNESS
Trying to keep his home base of Disneyland as his touchstone, Wolf struggles against the powers of darkness. When it finally overtakes him, his friend Wals must figure out a way to break through the fabric of time to bring back help. Returning to the Guardian's distant past, Wals must convince Wolf's warrior brother Mato to trust him and step into the swirling vortex that destroyed his brother's life.
CAN THEY UNITE TO SAVE WALT & DISNEYLAND?
Join the heroes—past and present—as they unite for one last stand against the forces of evil in a showdown that will rock the very foundations on which Disneyland was built.
Hidden Mickey 4 Wolf! will take readers on another "E-Ticket" ride through Disney's history.
Will it end...Happily Ever After?
TOP SELLERS at Disney's D23 Expo and Los Angeles Times Festival of Books
Nancy is continuing the Hidden Mickey saga with HIDDEN MICKEY ADVENTURES, a new action-adventure-mystery series. These action-adventure-mysteries start with HIDDEN MICKEY ADVENTURES: in Disneyland, a scavenger hunt quest book that readers can run when visiting Disneyland. Immediately following is the first novel of the series HIDDEN MICKEY ADVENTURES 1: Peter and the Wolf. You don't need to ask: of course, the series will have everyone's favorite character, Wolf.
HIDDEN MICKEY 4 Wolf!: Happily Ever After?
by Nancy Temple Rodrigue