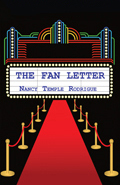 THE FAN LETTER
[DOUBLE R BOOKS - May 1, 2011 - ISBN: 098339752X - ISBN 13: 9780983397526]
Written with the Adult reader in mind, appropriate for all ages.
Nancy Temple Rodrigue, author of the action-adventure Mystery series—Hidden Mickey—and Hidden Mickey Adventures—about Walt Disney and Disneyland, authored this acclaimed Romantic Fantasy novel.
DOES LESLIE'S FICTION BECOME THE REALITY OF HER WILDEST DREAMS?
A television series fan sends a short story, a photo of herself, and commendation for her favorite actor's acting abilities. Their lives soon intertwine when her letter sets off a chain of events that affect both her life, as well as this actor's life and career.
LESLIE SETS A FANTASTIC CHAIN OF EVENTS IN MOTION
Leslie Nelson, hooked on a popular futuristic television show, The Time Police, decides to write her own episodes just for the fun of it. Best friend Janice urges her to send the manuscript along with a fan letter to the actors on the show. Little did she imagine the chain of events that fan letter would set in motion!
HER FAVORITE ACTOR SEES A GREAT BUT DANGEROUS OPPORTUNITY
Guest star on The Time Police, Phillip Beck, receives Leslie's letter and manuscript during a filming. Recognizing he had always been a second-billing actor and that his personal life seemed to be falling apart. After he extends encouragement he also finds himself being drawn in. His wife sees the threat and takes matters into her own hands.
DOES PHILLIP FIND HIS WAY OUT OF THIS 3 WAY CLASH?
Leslie finds her whole world is changed. Her life is now becoming intermingled with favorite television stars she had only admired from the safety of her living room.
FOLLOW THE ACTION & ROMANCE AS THIS OUTSIDER BECOMES AN INSIDER IN THE FASCINATING WORLD OF HOLLYWOOD
The Fan Letter
by Nancy Temple Rodrigue