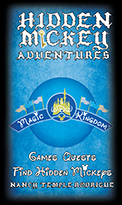 "HIDDEN MICKEY ADVENTURES in WDW Magic Kingdom"
[DOUBLE-R BOOKS - June 15, 2012 - ISBN: 0983397589 - ISBN 13: 9780983397588]
Volume 3 in the HIDDEN MICKEY QUESTS series
? Nancy Temple Rodrigue

Games - Quests - Scavenger Hunts to Find Hidden Mickeys - for ALL Ages.
From the author of the acclaimed Hidden Mickey series.
EXPLORE WDW MAGIC KINGDOM? IN A WHOLE NEW WAY
Find Hidden Mickeys! See your favorite Park with a new set of eyes!
GAMES, PUZZLES and CHALLENGES AWAIT AS YOU RACE THROUGH WALT DISNEY WORLD MAGIC KINGDOM?
Work alone, with friends, or team up and challenge them.
Score Points on each quest you finish.
See who knows the park the best as you decipher cryptic clues and find hidden symbols.
TEST YOUR KNOWLEDGE OF THE MAN THAT STARTED IT ALL: WALT DISNEY
Almost all the scavenger hunts are handicap accessible.
FUN FOR ALL AGES!
People in all age groups and all levels of Disney-based knowledge will be able to use this book to add to their fun at the Magic Kingdom?.

Whether you bring the book for just you and your family, or whether you square off with a group of your friends, set some ground rules or just let everyone have a free-for-all and see who does the best.
HIDDEN MICKEY ADVENTURES in WDW Magic Kingdom?
by Nancy Temple Rodrigue